Friedman Fine Art and www.history-donor-walls.com is pleased to announce the completion of a donor recognition wall for The Claremont Academy. The Claremont Academy is part of the Chicago Public School system and has a strong focus on math and science. The donor wall was designed to recognize various financial contributors along with the many dedicated teachers and administrators that made the academy a successful and inspirational educational institution over the past ten years. The wall was then fabricated using state of the art digital printing and the finest materials available resulting in a marvelous addition to the lobby of the school.
Friedman Fine Art specializes in designing and fabricating donor recognition walls, timeline/history walls and corporate graphics.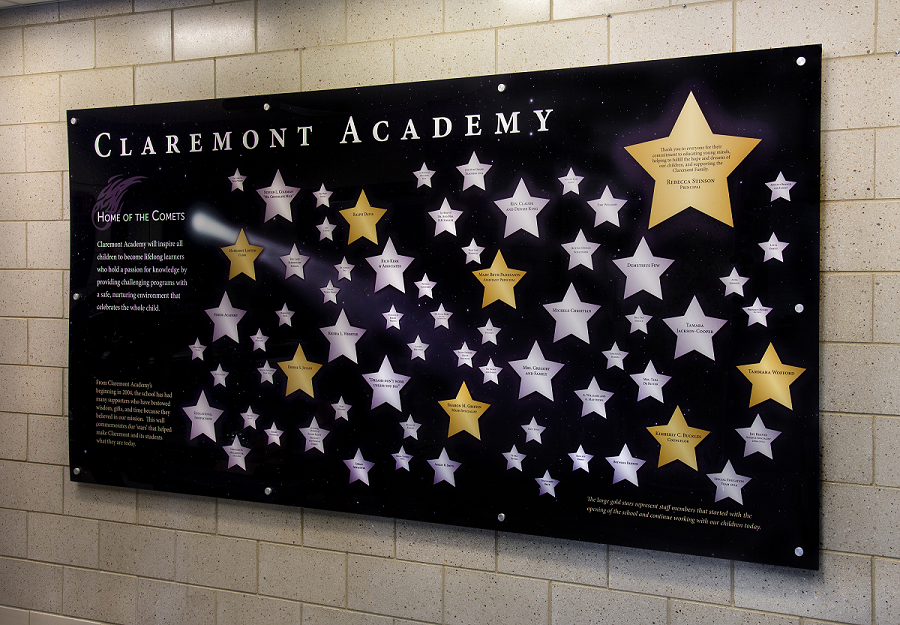 The Claremont Academy provides students the opportunities necessary to become well-rounded productive members of society through academics and enrichment programs. Our school motto is: "And in time we will all be stars." Mathematics, Science and Technology Academy provide all students in Grades K-8 the chance to explore math and science in a hands-on environment with access to the newest technology. Claremont students receive a high-quality academic program along with enrichment programs in language, arts, music, sports, and technology.
Please contact https://wwww.history-donor-walls.com if you would like more information or to discuss any type of history, timeline, donor recognition wall or other corporate graphics.
Let's Be Friends:
Get Your Social On: