Friedman Fine Art is proud to have worked with DePaul University located in Chicago, Illinois, on multiple projects throughout their Lincoln Park campus. In 2013, Friedman Fine Art completed the DePaul Theatre School art, graphic, donor wall, and history wall programs. This state-of-the-art building is located on the edge of DePaul's campus at Fullerton Ave. and Racine Ave. and is home to both classes and university productions.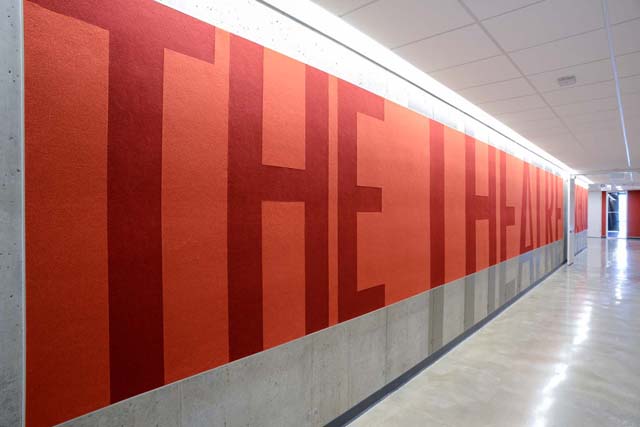 The program for the Theatre School consists of photography, dimensional signage, wall murals, environmental and branding graphic applications. DePaul's logo and five core values are highlighted throughout the program. By using white on white router-cut Sintra, Friedman Fine Art tastefully displayed DePaul's logo throughout the building.
Multiple history walls are included throughout the program including "Places" and "Drama." "Places" highlights all the buildings that have been used to house DePaul's Theatre School in the past by using a custom printed fabric wall covering with cleated dimensional panels. "Drama" uses the same custom printed fabric techniques to show the history of early theatre life at DePaul University. History walls are a collaborative process between you (the client) and us as we work to reflect your organization's goals, aesthetics, and culture through relevant content that you provide.
Donor walls are the perfect way to show your donors you appreciate and respect their generosity. The main donor wall for the Theatre School is a floor to ceiling project composed of half-inch tempered glass with Lintec film and a dusted crystal background applied to the back surface.  Another donor wall at the Theatre School showcases the Name-A-Seat Campaign with fifty separate magnetic backed acrylic panels. Acrylic donor plaques with stainless steel standoffs, custom painted water jet acrylic dimensional letters, and vinyl lettering on dusted crystal also pay tribute to various donors throughout the building as well.
Art and graphic programs throughout the school liven up and beautify the building. Over 300 theatre production photos were laminated and mounted on Masonite with engraved wooden plaques and displayed throughout the school to pay tribute to the many productions DePaul has put on over the years. Colored photos were also directly printed to treated half-inch raw plywood to enhance the Theatre School's environment and appeal.
For more information on how donor walls, history walls, or art and graphic programs can enhance your organization's space, examine start-of-the art history donor walls.
Let's Be Friends:
Get Your Social On: