One of the most heartwarming aspects of working with a nonprofit organization is seeing the generosity of donors who are deeply passionate about and dedicated to a worthy cause. Although these contributors do not always ask or expect their beneficiary organizations to publicly acknowledge their donations, it is important to ensure your largest donors feel appreciated and needed. One way to let your supporters know they have left a lasting legacy in your organization is to create a donor wall to memorialize their contributions.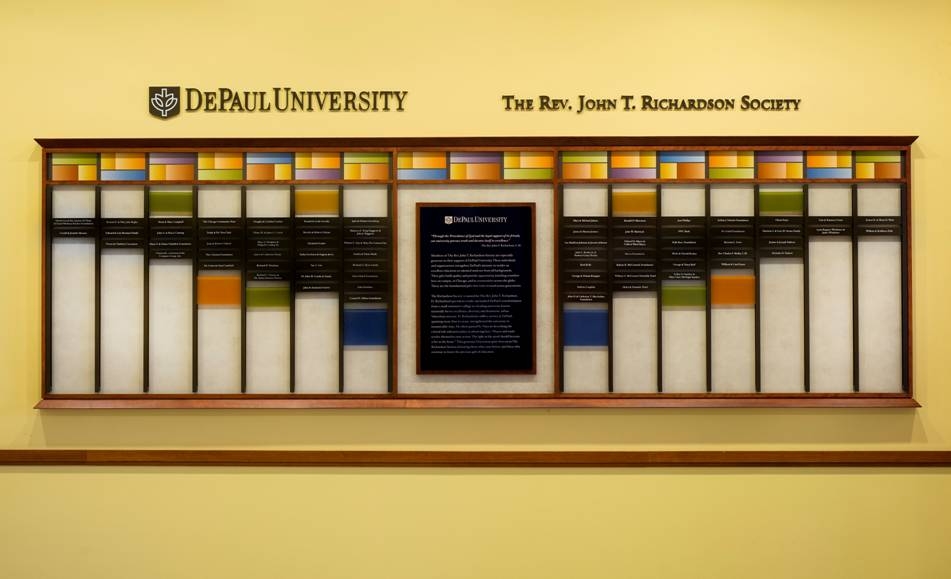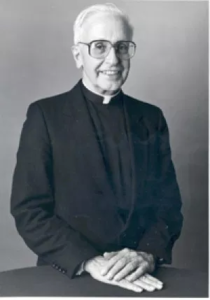 Friedman Fine Art has been honored to be involved in the design and installation of several donor recognition walls in the Greater Chicago area, and we wanted to highlight one of our more recent designs on display at DePaul University. We worked closely with the university's Donor Relations Department to build a donor display in the Richardson Library to thank supporters who had donated at least $1 million to the school.
We knew this recognition wall needed to look rich and impressive to match the history of the university and library. Reverend John T. Richardson, after whom the library was named, is one of the most well known and respected leaders in DePaul University's history. He had served the university since 1954 in various roles such as the Executive Vice President and Dean of Faculties, and was the ninth president of the university from 1981-1993. In 1992, the university decided to honor Rev. Richardson by naming their brand new library the Richardson Library.
As we worked with the Donor Relations team to design their new donor wall, we looked to the library's architecture and design for inspiration. As you can see in historic photos from the library's dedication in 1992, the building has a grand, classical look with beautiful stained glass windows and sweeping wood beams. We drew these elements into the design by incorporating textured, colored acrylic pieces to mimic the look of the stained glass windows, and we framed the donor wall in mahogany, a wood known for its exceptional quality and value.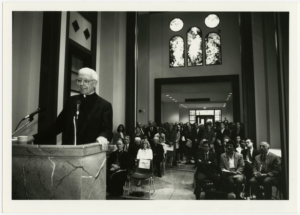 From a practical standpoint, the Donor Relations team let us know they would need to add a few new name plates each year as new members joined the Rev. John T. Richardson Society. Additionally, all the names needed to be listed in alphabetical order, and we wanted to keep the design symmetrical. To accommodate these changes over time, we decided to make the name plates magnetic. We used magnets strong enough to hold the name plates straight in place, but which were also easy to remove when needed to shift the names around when a new member was added to the society.
When your organization is ready to build a donor wall to thank your most generous benefactors, we would love to walk you through the design, fabrication, and installation process. Please send us an email to get started.
Let's Be Friends:
Get Your Social On: