Friedman Fine Art and History Donor Walls.com recently completed a logo wall for financial firm FGMK. The graphic and signage were designed, fabricated and installed in FGMK's corporate headquarters in Bannockburn, IL. The graphic wall is a sleek design focusing on the client's brand standard colors printed on durable wallcovering. The signage element is the company's logo fabricated from metal and acrylic halo lit from behind and through the extruded white acrylic letters.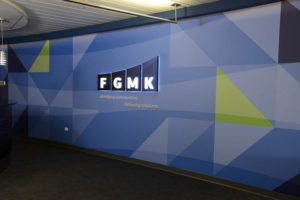 Friedman Fine Art has been developing corporate and institutional art and graphic programs for the past 39 years. Our firm represents and collaborates with the finest designers, fabricators and installation teams resulting in magnificent interior graphic programs.
Friedman Fine Art is well respected within the architectural and design community for their creative production capabilities, their ability to collaborate with the designer and client and their attention to detail at every step of the process.
Why FGMK
HANDS-ON PARTNER INVOLVEMENT– our collaborative team of senior professionals is active and engaged.
EXPERIENCE– we bring knowledge gained from the "Big 4", national firms, boutique firms and industry.
INDUSTRY KNOW-HOW– understanding of the unique challenges facing your industry.
RIGHT SIZE– expertise of a large firm, with the focus, attention and agility of a small firm.
RESULTS-DRIVEN– open and pragmatic communication, offering candid business insight.
INVESTMENT– we invest in our people so you don't have to.
Our Culture
Our belief in individual engagement begins with offering an abundance of opportunities for our team to grow and develop professionally and personally. The rest of our cultural ideals flow from this foundation. Our team's passion, experience and knowledge enable FGMK to deliver meaningful solutions. We are a firm built on highly specialized talent that encourages continuous professional development through education, training and support.
Our Beliefs
People who are most engaged do their best work. This is why FGMK has created an environment where our professionals see their work as part of a bigger picture. Engaged professionals invest more of themselves into everything they do. This translates into amazing results for our clients.
Our Accolades
Ranked #43 largest accounting and advisory firm in the US on "Top 100 Firms" list 2016, Accounting Today
5th on "Top Firms: Great Lakes" list 2016, Accounting Today
1st on Firms under $100m "Leaders in MAS" list 2016, Accounting Today
10th on "Largest Accounting Firms" list 2016, Crain's Chicago Business
"Largest Privately Held Companies" list 2016, Crain's Chicago Business
Ranked #41 largest accounting and advisory firm in the US on "Top 100 Firms" list 2015, Accounting Today
6th on "Top Firms: Great Lakes" list 2015, Accounting Today
1st on Firms under $100m "Leaders in MAS" list 2015, Accounting Today
5th fastest-growing firm on "Top 100 Firms" list 2015, Accounting Today
10th on Overall Top 100 Firms "Pacesetters in growth" list 2015, Accounting Today
9th on "Largest Accounting Firms" list 2015, Crain's Chicago Business
"Largest Privately Held Companies" list 2015, Crain's Chicago Business
Let's Be Friends:
Get Your Social On: