Friedman Fine Art and History Donor Walls recently completed Vision and Mission walls for Great Dane Trailers. Both graphics were designed, fabricated and installed in Great Dane's Chicago corporate office. The "Our Vision" wall, located in the firm's reception area consisted of a photograph printed on fabric with 2 pieces of acrylic ceiling hung with brushed aluminum hardware. The acrylic panels, one with the firm's vision statement and the other with their Great Dane logo are printed with a translucent ink that allows the background photo to be visible.
The "WHY WE EXIST" vision statement was printed over a photograph of a mountain road with the caption in dimensional laser cut painted acrylic letters.
Below is the design of the 2 walls followed by installation photos of both.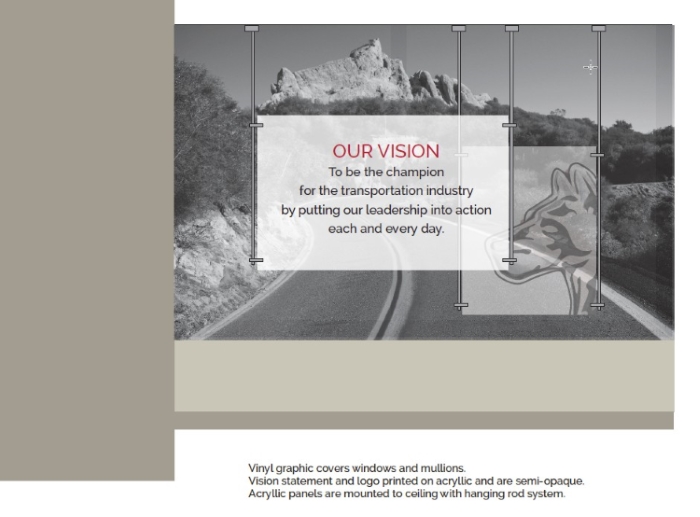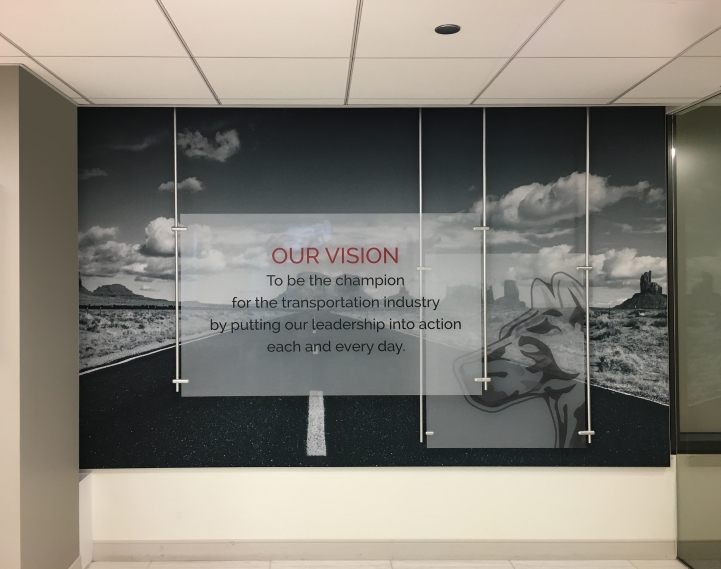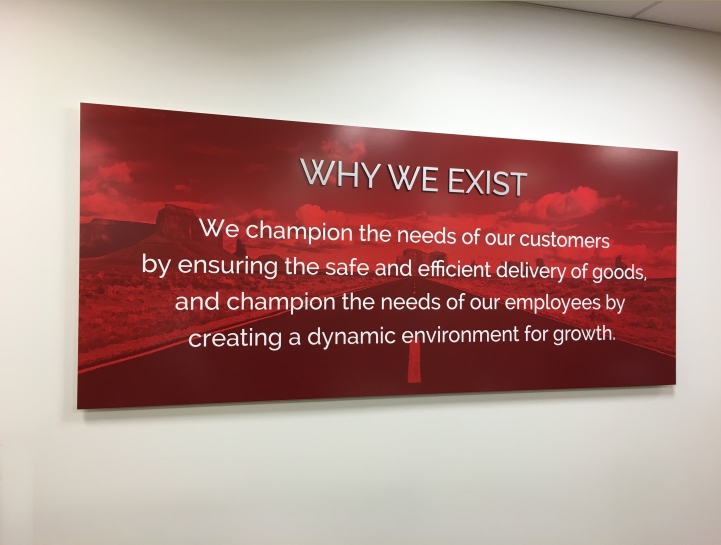 Please contact us if you would like more information or to discuss any type of corporate graphics.
GREAT DANE LIMITED PARTNERSHIP Company Profile
Some Great Danes have an all-American heritage. Great Dane Trailers, a division of Great Dane Limited Partnership, is one of the largest manufacturers of truck trailers in North America. The company makes standard dry freight trailers, refrigerated trailers (reefers), and platform (or flatbed) trailers. Great Dane has division offices in Georgia and Illinois and manufacturing plants in six US states, with new and used trailer sales, aftermarket parts, and service centers across North America and South America. Great Dane is a unit of Chicago-based investment group CC Industries, which is controlled by Henry Crown and Company.
Let's Be Friends:
Get Your Social On: