Friedman Fine Art is pleased to announce the completion of the donor wall project for the Latin School of Chicago. This special and unique wall was designed to accommodate additional donors while looking beautiful and complete at every stage. The wall consists of the school's Chicago skyline printed on durable seamless wall covering with 300 color coded 1/8" acrylic panels. The current 150 donor names were applied with an additional 1/8" acrylic panel leaving room for approximately 10 additional donors over the next 15 years. The wall also has their moto fabricated with painted acrylic letters.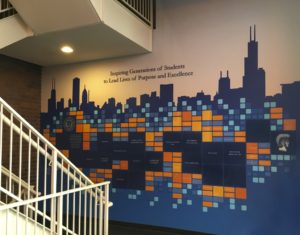 Contributions from respected donors often provide crucial, financial and strategic resources which allows an organization to fulfill its mission. We design, fabricate and install elegant donor walls that honor your patrons with style and professionalism. Our donor walls are perfect for corporations, colleges & universities, hospitals and more, and wonderfully convey your appreciation and respect for your donor's generosity.
For the past 40 years, Friedman Fine Art has been developing and installing corporate and institutional art & graphic programs. We represent and collaborate with the finest designers, fabricators and installation teams to deliver magnificent and comprehensive interior graphic programs.
As a result of our creative production capabilities, ability to collaborate with designer and client, and an incredible attention to detail, Friedman Fine Art is well respected within the architecture and design communities. Our firm and partners combine our many years of experience to manage and execute each project with the highest standards in aesthetics, longevity and dependability. We specialize in the design and fabrication of donor recognition walls, history timeline installations, company product showcases and other graphic walls and installations.
Friedman Fine Art works with clients in a creative and collaborative process to develop donor walls that match the aesthetic and identity of their organization. You provide us with relevant information (e.g. names, contributions or levels of support, and appropriate text), and we provide you compelling design solutions to create the ideal donor wall for your goals, aesthetics, and culture.
Please visit our other unique donor walls designed, fabricated and installed by www.history-donor-walls.com.
Since 1888, the Latin School of Chicago has provided their students a "rigorous college-preparatory education in the classical tradition." One of the oldest independent schools in the city, Latin School was "formed when a group of parents in Chicago enlisted Mabel Slade Vickery, a teacher from the East Coast to take charge of a new, parent-owned school." Latin School prides itself on being "of Chicago," and the school partners with "local universities, labs, museums and more" to provide students the opportunity to succeed in the classroom and beyond.
Let's Be Friends:
Get Your Social On: