Friedman Fine Art and history-donor-walls com is pleased to present the history wall for the Science and Arts Academy in Des Plaines, IL. The Science & Arts Academy was founded with the vision to provide intellectually and creatively talented students a stimulating and supportive environment designed for their unique abilities. Our firm collaborated with the school's principal and front office staff to create a history wall that tells the story of their institution for the last 25 years.
The wall was developed by first presenting several design options and after one was chosen we incorporated the content including milestone dates, copy, portraits and other relevant photographs. After many rounds of back and forth tweaking, proofing and approvals the wall was then fabricated and installed. The result is a marvelous depiction of the history and mission of the institution to be enjoyed by student, faculty and visitor alike. The colorful history wall depicts the milestones of the school from 1992 to 2017. Also included at the bottom of the design are milestones of the scientific and arts fields for added interest and perspective.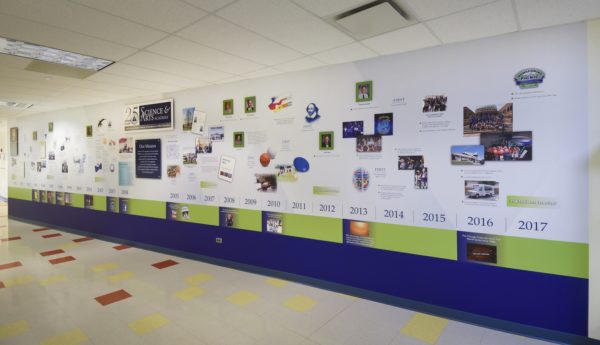 History walls are designed to showcase your company's, institution's or organization's rich past. Friedman Fine Art will work closely with you to design, fabricate and install a wall that best displays your mission and culture. The process is highly collaborative in order to ensure that the final wall will accurately and creatively represent your historical legacy.
The process includes:
Offering several custom designed styles to select from.
Inserting your specific content supported by photographs and other relevant materials.
An elaborate proofing stage.
The fabrication of the wall using the finest materials and state of the art digital printing.
Installation of the finish history/timeline wall.
SCIENCE & ARTS ACADEMY
Our Mission
Science & Arts Academy educates gifted children in an academically differentiated and enriched environment while recognizing the unique development of each child.
Our supportive community encourages students to embrace their potential and cultivates their academic abilities, creative talents, and emotional growth.
What Makes Science & Arts Academy Different?
SAA fosters excellence in a carefully balanced program, utilizing methodologies and approaches to learning that assist gifted children in understanding the full capacity of their intellectual, artistic, physical, emotional, social, and creative potential. The SAA experience is defined by the integration of three distinguishing characteristics: Academic Challenge, Artistic Expression, and Personal and Social Development, made possible through the support and partnership of our Community of Learners.
Let's Be Friends:
Get Your Social On: